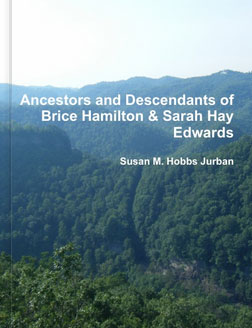 $25.00 + S&H
Ancestors and Descendants of Brice Hamilton & Sarah Hay Edwards
by Susan Jurban
©2009
Paperback, printed: 341 pages, 8.5″ x 11″, coil binding, black and white interior ink
This book should be of importance to anyone having an interest in the Edwards and Hay families of Dickenson County, VA, especially in the Brice Hamilton & Sarah Hay Edwards family. As well as others interested in information on Thomas Edwards, died 1751 in Lunenburg County, VA; and John Hay, died 1799 in Charlotte County, VA. The book includes photographs, maps, deeds, wills, military records and is divided into eight chapters on the Edwards and Hay ancestors. Brice & Sarah's family includes information on all 15 of their children, 121 grandchildren, and includes an index for all of their descendants.
Order Online
Usually takes 3-5 business days to print
Download Order Form & Mail-in
Mail in orders will be autographed by the author if desired